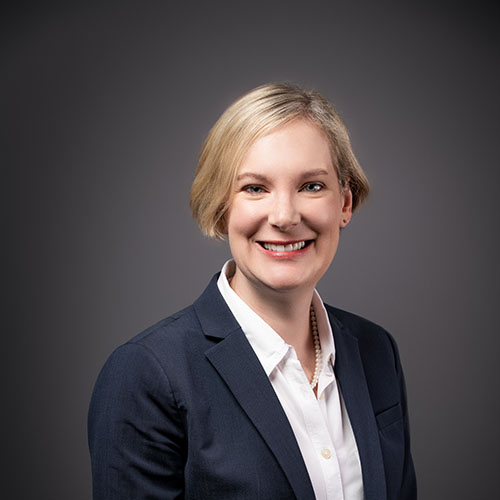 Elenore is of counsel at McMickle, Kurey & Branch, LLP.  She graduated with honors from the University of Florida with a Bachelor of Arts degree in 1998 and received a joint Juris Doctor with honors and Master of Arts in 2003, also from the University of Florida.  Elenore served as the Notes and Comments Editor for the Florida Law Review and a Graduate Assistant Coach for the U.F. Speech and Debate Team. 
Elenore began her legal career with Dennis, Corry, Porter & Smith in Atlanta and joined McMickle, Kurey & Branch on its founding in 2010.  Elenore's practice focuses on the defense of corporations in civil litigation, with an emphasis on motor carrier defense.  She also handles insurance coverage analysis and litigation.  She is admitted to practice in Georgia and Florida.
Elenore resides in Atlanta with her husband, Rob, and two children.  She is an active community leader, having been president of her neighborhood association since 2018.  She enjoys hiking, board games, and attempting annually to grow tomatoes.
Education & Bar Admission
Georgia (all state and federal courts)
Florida (all state and federal courts)
Seventh Circuit Clarifies Standards for 28 U.S.C. § 1782 Discovery Requests, Litigation News (Apr. 20, 2011). Reprinted in The International Law Quarterly (Spring 2011).

Eleventh Circuit CAFA Decision Creates Uncertainty, Litigation News (Sept. 2, 2010).

$4.3 Million Attorney Fees Sanction Reversed, Litigation News (June 8, 2010).

EEOC: Mandatory Retirement Policy Violates Age Discrimination Act, Litigation News (Mar. 25, 2010).

Arizona Declares Metadata Is Fair Game For Open Records Requests, Litigation News (Dec. 29, 2009).

Metadata Uncertainty Extends to Public Records Law, Litigation News (Apr. 16, 2009).

The Mythology of Logo Liability, 33 Trans. L.J. 1 (2006). Cited in Saullo v. Douglas, 957 So. 2d 80 (Fla. Dist. Ct. App. 5th Dist. 2007).

Comment, Constitutional Law: Endorsing a New Test for Establishment Clause Cases,
53 Florida Law Review 995 (2001). Cited in Glassroth v. Moore, 335 F.3d 1282 (11th Cir. 2003).